Radon is a radioactive gas that is present in all homes but at different levels. Though it's naturally occurring, radon can be harmful to your health if present in high concentrations. We use the most comprehensive radon testing and reporting methods, and our experienced team of professionals will work with you to determine the best course of action to take if radon is found in your home. We understand the importance of peace of mind and are here to help you create a safe and healthy home for your family.
Certifications and Affiliations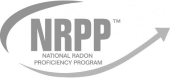 Frequently Asked Questions About Radon Testing
Testimonials
Trusted for exceptional radon testing since 1991
"I have been working with ReveAnn Ellrott at Radon Testing Services for years now. She is reliable, responsive and knowledgeable and always goes the extra mile to make sure everything goes smoothly. It is with great confidence that I recommend her to clients and I am thankful for the great service she provides!"
Rim Bayya, Assistant to David Offer
Realtor CA BRE Lic# 01150357, David Offer Fine Homes
"We have used Radon Testing Services twice, and are so glad that we did. The test of our first house showed that we had acceptable levels of radon. The peace of mind that came from that was well worth the cost of the service. More recently, when we had another house tested, the test showed that the levels of radon were higher than recommended. The results of the report allowed us to negotiate a large credit from the seller, which covered the cost of radon remediation services. The investment in testing may have saved our (and our son's) health, and finding out about the radon during the inspection period certainly saved us a lot of money."
"My experience with ReveAnn and Radon Testing has gone on for many years. I had Radon Testing done when my son purchased a house as well as his friends. They are very professional and experienced. My son's home was diagnosed with radon. We were referred to several companies that could mitigate the problem. I always work and refer clients and associates to ReveAnn."
Realtor, #DRE 00637530, White House Properties, Inc.
High Radon Levels are not worth the risk. Get tested.
Find out if you have high levels of radon in your home. Schedule an appointment.
Like No Other Radon Testing Company
"*" indicates required fields