Radon exists everywhere. High concentrations can be found indoors, from our stunning beachfront to the most magnificent home in the Hills. This radioactive gas causes approximately 21,000 lung cancer-related deaths in the U.S. annually. At Radon Testing Service Inc, we are the only qualified radon testing experts incorporating geologic radon potential into your risk analysis. Because when it comes to preventing lung cancer, you deserve the best.
According to the California Department of Health Services radon program, "any person offering radon testing services, who is not a certified professional, is in violation of CA Health and Safety Code sec 106790. Any test results would be invalid for legal purposes." Our radon testing specialists have the accreditation and certification and over 30 years of experience testing large buildings, multi-family units, schools, assisted living, and nursing homes. We know exactly how to correctly sample commercial properties and the reporting techniques the state is looking for under ANSI-AARST standards.
The US EPA reports that "radon is an odorless, colorless gas which forms when uranium or thorium in rocks breaks down." Because of the time we spend indoors, the highest exposure is typically found in any property where high concentrations have accumulated. The radon enters through low-level cracks and holes in the foundation, making it the number one cause of lung cancer among non-smokers!
Radon is more hazardous to your health the longer you are exposed; therefore, it becomes critical to test residential homes and apartments, schools, daycares, offices, and long-term health facilities. In the greater Los Angeles area, indoor radon concentration levels are often higher than the recommended 4.0 pCi/L and require mitigation. Because radon is undetectable without testing, it is highly recommended that every property be tested at least every five years.
Find out more about the health risks of radon by visiting the EPA's and California's Department of Conservation Geological Maps.
Certifications and Affiliations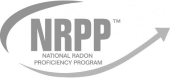 At Radon Testing Service Inc, we are proud to serve homeowners to industry leaders in property management, real estate, and more.
Testimonials
Trusted for exceptional radon testing since 1991
"I have been working with ReveAnn Ellrott at Radon Testing Services for years now. She is reliable, responsive and knowledgeable and always goes the extra mile to make sure everything goes smoothly. It is with great confidence that I recommend her to clients and I am thankful for the great service she provides!"
Rim Bayya, Assistant to David Offer
Realtor CA BRE Lic# 01150357, David Offer Fine Homes
"We have used Radon Testing Services twice, and are so glad that we did. The test of our first house showed that we had acceptable levels of radon. The peace of mind that came from that was well worth the cost of the service. More recently, when we had another house tested, the test showed that the levels of radon were higher than recommended. The results of the report allowed us to negotiate a large credit from the seller, which covered the cost of radon remediation services. The investment in testing may have saved our (and our son's) health, and finding out about the radon during the inspection period certainly saved us a lot of money."
"My experience with ReveAnn and Radon Testing has gone on for many years. I had Radon Testing done when my son purchased a house as well as his friends. They are very professional and experienced. My son's home was diagnosed with radon. We were referred to several companies that could mitigate the problem. I always work and refer clients and associates to ReveAnn."
Realtor, #DRE 00637530, White House Properties, Inc.
High Radon Levels are not worth the risk. Get tested.
Find out if you have high levels of radon in your home. Schedule an appointment.
Like No Other Radon Testing Company
"*" indicates required fields